(Note: For the sake of not spoiling anything, I am only reviewing the Multi-Player experience for MW3.)


   Modern Warfare 3 marks the return of embattled and shattered developer Infinity Ward back into the video game scene. Modern Warfare 3 launched with record numbers regardless of the bitter nastiness still lingering from founder's Vince Zampella and Jason West's terminations. The game launched to the tune of $400M USD/65 Million copies within 24 hours of release.


  However good things may look on the outside they can either turn for the better or worse on the inside. The last installment of Call of Duty, Black Ops. Brought brand new mechanics and customization to the game (Custom Emblem creator, Flying Dive move) as well as a more intelligent ranking up system (Using COD points earned from Multiplayer to unlock the weapons and attachments you desire). This is where I think MW3 tapers off, as a franchise, giving us all these new shiny things then taking them away for the newest installment is kinda of dicky. Not that I dislike MW3's gameplay at all.


  Getting into the game, we find ourselves starting at level one yet again as the standard "F.N.G" or "Fucking New Guy" with some pre-set classes and weapons that will be unlocked later in the levels already available for use. I found that leveling up was amazingly simple in the new "Kill confirmed" game type and once you chose a weapon that fits your play style you can easily dominate public lobbies like no other. The thing that really gripes me about the game currently is the fact that I have to level each weapon up individually and once I out-level a class I tend to stick with a new one, feeling like a damn FNG all over again. 


  Titles and emblems make a return, only to be returned as the system from MW2, early on in the leveling process you will find yourself unlocking almost 2-3 emblems and at least one title per match. The titles from MW2 return with new graphics and such, however the challenges to get them seem entirely the same.


  Prestige is of course back, will all the fun in starting over and over tied in. This time however you earn a "Token" for each prestige level you earn, allowing you to unlock certain things right off the bat, being able to have access to a favorite weapon is rather amazingly, and the option to snag double-xp makes leveling back to where you were a little easier.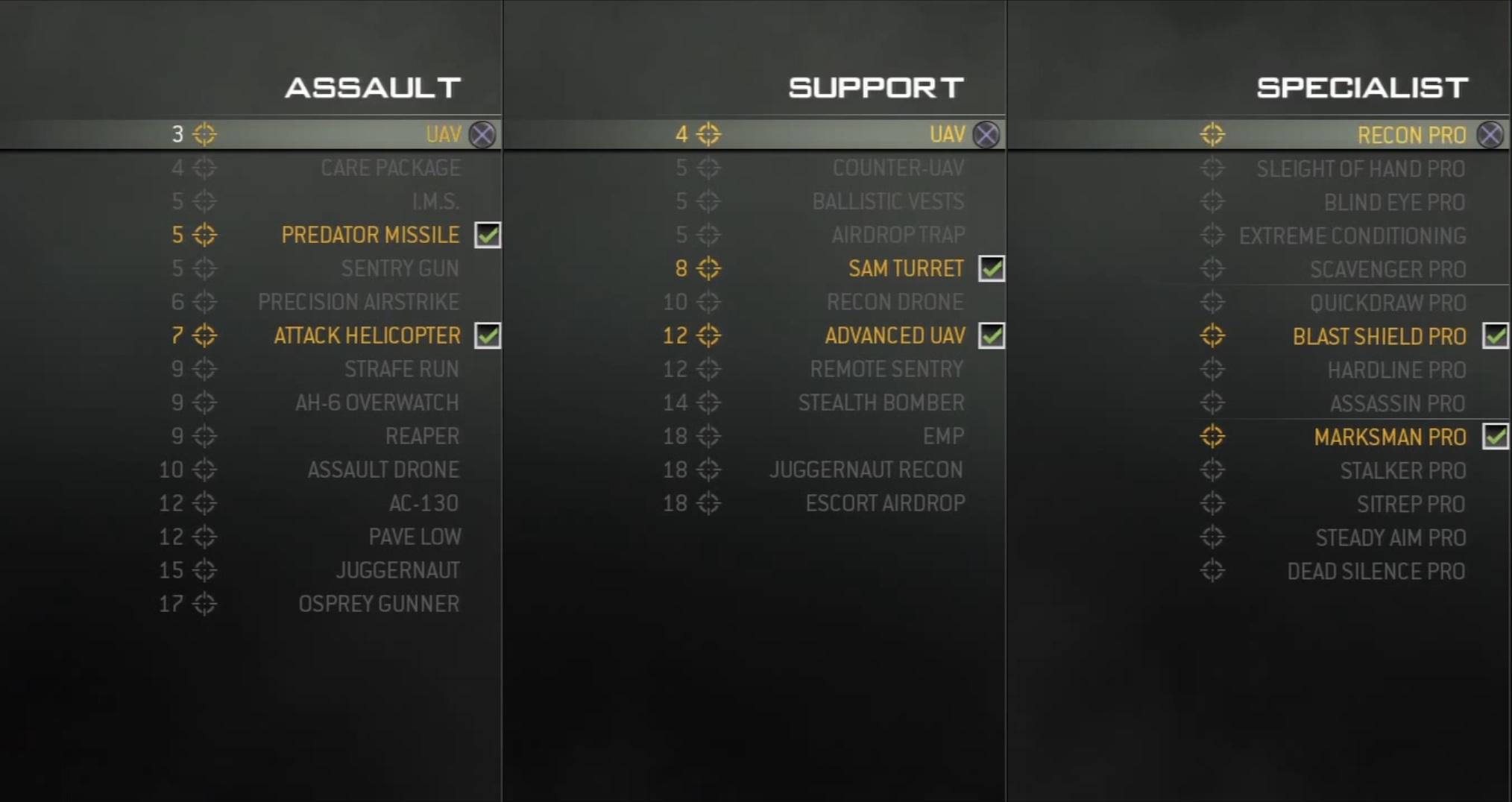 Killstreaks return in the form of pointstreaks, taking out an enemy UAV, killing two foes, and knifing a SAM turret to death earns you a point towards your rewards. Depending on which strike package you use, you can be earning ballistic vests in support to armor your team mates, a reaper drone to rain missle-death onto your enemies heads, or new perks to add to the 3 you are currently using. I prefer the specialist package, mainly because after 8 kills I earn ALL THE PERKS and become Duke fucking Nukem until some cheap-ass corner camper ends my rampage.
                        
  New game modes in this installment are AWESOME, I am mainly a hardcore mode player and having Domination, S&D, and the new Kill Confirmed game modes available for hardcore play is AMAZING! The new mode Kill Confirmed pits two teams against each other in a mad dash to nab up dropped enemy dog-tags and preventing the enemy from snagging their own. I find myself sometimes bitching at my team to quit ignoring tags and to stop worrying about their K/D and just earn points by snagging our downed teammate's red tags. Each tag you nab up earns you +50 XP as well. All your other favorite modes are back as well, except for the weird 3rd person mode from MW2. 


Weapons are amazing this round! The new guns rock, I am loving the little machine pistol posted above (The FMG-9) as well as some of the new choices that player's may unlock. The one annoying thing I've found is the XM-25 grenade rifle which is a noob tuber's wet dream. Fuck that thing, seriously.



  Elite, where do I even begin with this? Elite was lauded as an awesome stat tracking system and service to enable you to view and change your classes, as well as learn the maps and weapons better. I bought the hardened edition so that I could earn the free DLC and get the "Founder's status" gun camo, emblem, and titles. When Elite actually works for me, it's pretty cool. However, there is tons of issues with log-in, as well as server load issues that are just not even worth messing with currently. I hope this system expands in the future and becomes more than just a daily 503 error page.


All in all, I would have to give MW3 an 8/10, for gameplay, graphics, and innovation. Yet, I docked 2 points from a perfect score for not including some of the fun stuff from Black Ops. (I know, I know Treyarch made BO, and IW made MW3..) Hopefully next year when we see another NEW installment of the Call of Duty franchise we will see those additions made. Until then, Happy fragging!